Social media platforms are always being updated, which means they're constantly changing their profile and cover photo dimensions, layouts, and dimensions for uploaded images. It can be tough to keep track of. And we understand you're busy; you can't spend all your time sweeping the internet for information that changes time and time again.
However, high-quality and creative imagery is imperative to your social media marketing success, so it's important that you know the proper dimensions for each network you use.
That's why we decided to gather the information for you and keep it in one, continuously updated place for your convenience. Pretty handy, huh? We thought so, too.
Get all the proper image dimensions for the following social networks in the infographic below, and check back later at our convenient, always up-to-date Google Doc here. (Don't forget to bookmark it!)
Facebook
Visual storytelling is becoming an increasingly important aspect of the social web—and Facebook is well aware. Featuring high-quality imagery on Facebook also shows your audience that your business is legitimate, reputable, and pays attention to the details (no matter how small).
Facebook also understands the importance of visual advertising and offers the opportunity to "boost" the posts on your Page for a fee (in addition to an evolving array of other advertising options). However, there is a 20% text rule to these ads because Facebook requires the visual image to be prominent. This rule is focused on providing a positive user experience and preventing advertisers from publishing overly promotional or spammy content. Use this tool to see if your images adhere to Facebook's text to image ratio.
Profile and Cover Photos
These photos represent your brand on Facebook. The profile photo may be a small square, but it can make a big impact.
Most businesses will use this space for their logo, rather than a person's photo. However, if your business is run by you and only you, using a photo of yourself might not be a bad idea.
Pro Tip: Think about the placement of the profile picture within the cover photo area incorporate your profile as a part of your cover design, like some brands have done.
Shared Images (Timeline and Newsfeed)
These images appear both on your timeline and in most of your followers' News Feeds. With the decrease of Facebook organic reach, prompting engagement on your images is a good way to ensure that the images you share are seen by some of your fans without spending money to boost them.
Shared Link Photos
Sharing content that links elsewhere is also an effective way to spread content and generate website traffic. If you're sharing a link to your business' Facebook Page, there are a few more elements to consider and formats to choose from. When you paste a link into your status area, depending on the sizes of the images associated with the web page itself, you'll be prompted to feature a carousel of up to five images, or a large rectangular image (which should reinforce the post/link title and description). You're also able to edit the title and description should you so choose.
Pro Tip: Sharing images and links helps you post content relevant to your business when you may not have time to create your own, and if you share your customer's content, that's an even better way to connect with your audience via social media.
Twitter
Known for its constant social buzz, Twitter is also an extremely popular customer service and experience tool for businesses. Customers can tweet about an issue, compliment, or just simply share their experience via a 140-character message in a matter of seconds. If your business is tagged in a tweet, you certainly want to ensure that your brand is represented properly.
Profile and Cover Photos
Your profile photo will be visible on your profile, in-feed, and next to a link in the "Who to follow" box. Most businesses use this as a place for their logo because it is seen practically everywhere: when you tweet, when others retweet your tweet, when their retweet gets retweeted, and so on.
Your cover photo, however, is only seen when a user clicks to your profile—but that doesn't mean that it's not important! It's a large photo across the top of your profile, so you'll want it to be a high-quality photo that represents your brand.
Note: Twitter recommends that you upload your cover photo dimensions at 1500 x 500 pixels. However, because the cover photos are responsive, your cover photo may look bigger or smaller depending on the size of your browser or screen.
Pro Tip: Cover photos are a great place to describe what your brand does, display a new product, or to use as free advertising space!
In-Feed Photos
Twitter may have a limit of 140 characters, but you can also use visuals to assist in representing your brand and sharing your content.
Attaching a photo to your tweet does take away 23 characters (because it needs the URL to link to the photo), but tweets with images are over a third more likely to be retweeted.
Note: Twitter announced in May 2016 that, when replying to someone's tweet, @names will not count as part of the 140-character limit, and neither will media attachments (e.g. photos, GIFs, videos, and polls). These changes will be rolled out "in the coming months," according to a press release. We will be sure to update you when this change becomes available to all users.
TweetDeck
You can't make separate images for Twitter and TweetDeck, since they're really the same social network. Everything you post on one site will show up on the other (there's no way around it).
However, you still want to take into consideration the way that your Twitter header image will appear on TweetDeck because they do vary a bit in size. If there's text in your image that you want people to be able to read easily, you'll want to take extra care in making sure it's readable on both platforms.
Pro Tip: It's okay if some of your header image design is covered by your profile photo and bio in TweetDeck. However, if you have important text or imagery that you'd prefer was seen at all times, be careful about centering those elements.
Here's an example of a cover photo optimized for TweetDeck: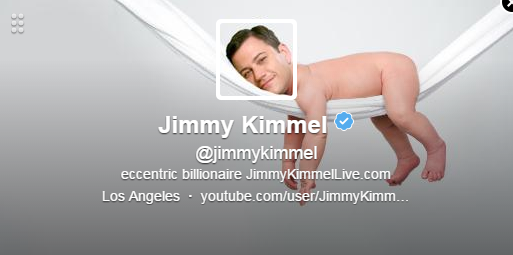 The same cover photo on the desktop version of Twitter:
Google+
Google+ recently underwent a substantial redesign, giving many marketers and everyday users hope for the social network's future.
When a user performs a Google search for your business, elements of your Google+ profile, such as your location and reviews, will likely be listed, as well as a links to your recent posts on Google+ (where applicable). So while Google+ may not be the top social media platform, it certainly shouldn't be ignored.
Profile and Cover Photos
When a user searches for your business on Google, a link to your Google+ profile will sometimes show up in conjunction with your website. Keeping this in mind, you'll want to ensure that your profile image is high quality and that you have recent posts available for viewing. Also note that even though you upload your profile photo as a square, it will display on your page in a circle.
Regarding your Google+ cover photo, as with most cover photos, it's the largest image at the top of your profile, so you'll want clear and creative visuals to portray your brand.
Shared Image
When sharing on Google+, you have the option to share publicly, within a collection, in a community, with a circle, or with an individual. Collections are much like Pinterest boards where you can organize and collect images or links based on a topic of interest to you.
A Community is a place where people can come to discuss and share news on common topics of interest.
Circles are your followers grouped together based on certain information (like friends, colleagues, etc.).
Shared Link
When you paste a link to share on Google+, it will pull a photo from the web page and add it to your link in a small square or rectangular format, depending on the original image size. If the web page has multiple images on it, you can flip between them to choose the image you'd like to feature in your Google+ post.
Pro Tip: Sharing relevant content in Google+ communities is a great way to raise brand awareness, promote your page, connect with people, receive quality post engagement, and potentially get traffic to your blog/website. Just don't overdo it: when you post to a Google+ community it also shows up on your profile, so sharing the same post to several communities tends to look spammy.
NOTE: Here is the old/"classic" Google+ profile layout, which you may still see if you haven't switched over to the new Google+ yet:
Pinterest
Pinterest is an amazing search tool. With 90% of pages being external links, Pinterest has proven to be wonderful at driving referral traffic.
Profile Photo
This is one of the few platforms that doesn't have a cover photo, so the representation of your brand rests almost solely on the shoulders of your profile photo. Similar to Google+, Pinterest's profile photo is uploaded as a square, but displays as a circle in the top middle of your profile above your name.
Pin Sizes
Because Pinterest's layout is more portrait-oriented, vertically designed pins tend to perform better. When deciding on size, create a pin that caters to what you want to visually represent; larger pins do not necessarily mean you'll attract more attention.
Board Display
The first thing you see when you visit someone's Pinterest profile is their collection of boards. Name your boards appropriately, and have cohesive cover photos for each of them. You don't want empty boards (or no boards), but you don't want a plethora of boards with no purpose, either.
Note: Some users began noticing a new Pinterest profile layout in July 2016 (see below). The new design has a larger profile photo next to the username and bio, along with a 3-photo grid for board cover photos.
The layout is rumored to still be in testing, as there has been is no official word from Pinterest about this new format. We'll be sure to keep tabs on this apparent change and keep you up-to-date!
Pro Tip: Ensure that your first two or three boards are relevant to your industry or audience. You don't want visitors to leave your profile because they don't understand what your business does or can't quickly find the information they were searching for.

LinkedIn
LinkedIn is primarily for networking with other professionals, but it is also a resource for businesses to connect with other businesses, prospective employees, and industry leaders. You can choose between a personal profile and business page option (both with free or paid options).
Personal Profile and Background Photo
You should have a respectable, professional photo of yourself for your personal LinkedIn profile.
On LinkedIn, the background photo replaces the "cover photo" at the top of your profile. As an oblong shape, it can be difficult to find imagery that fits the space well—that's where creating your own visuals comes in handy.
Business Logos
The standard logo for a business page is a small rectangle at the top of the page that displays next to your brand name. The square logo is what people see when they search for your company.
Business Cover and Banner Photo
Instead of a background, on the business page you can have a cover photo that stretches across your profile under your logo and name/contact info; or you can design a banner image that reaches across ¾ of the page of your business' homepage.
Pro Tip: Use a group photo of your employees or the building of your business as your banner photo, and avoid random stock photos.
YouTube
YouTube is a video-sharing social network that is accessed by users 24/7 on the largest variety of devices, including tablets, phones, desktops, and televisions. It's extremely important to have high-quality imagery that can be viewed on any size device.
Channel Icon and Channel Art
A small square profile photo overlays the top left corner of your YouTube page. As important as profile and cover photos are to representing your brand, on YouTube, many users will see one of your videos before them. This makes having striking images even more important so that users associate the videos with your brand and remember you.
Pro Tip: You only upload one image for your YouTube channel art, but it will display differently across devices. When you upload an image, you can crop it to fit the desktop layout (see the GIF below for a demonstration)—but make sure the important elements are right in the center to ensure they aren't cropped out on smaller screens.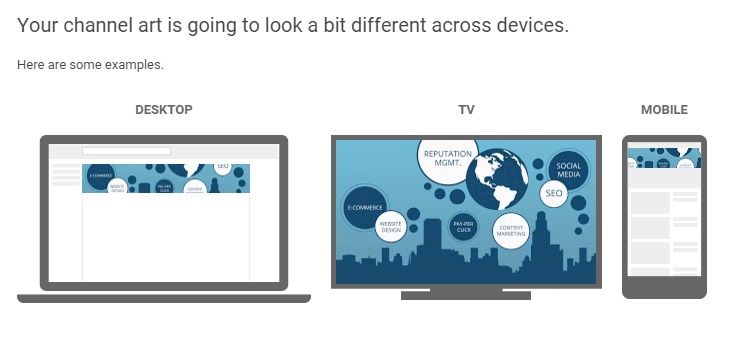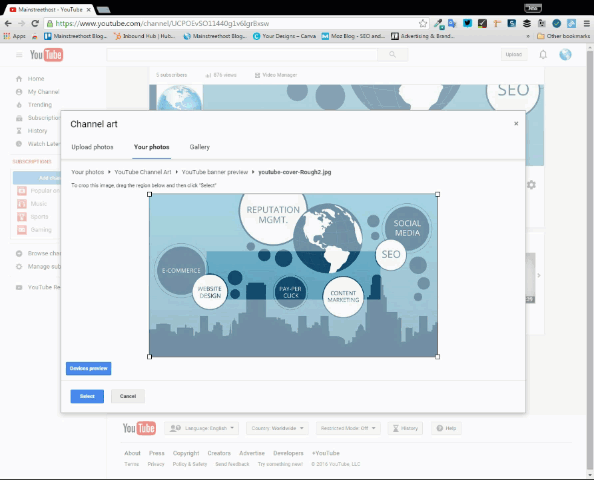 Instagram
Instagram is all about photos and visuals, which should make the importance of high-quality images blatantly obvious for this social network.
Profile Photo
As with almost all the other platforms, the profile photo is a circle that shows up next to all of your posts, and at the top left of your profile page. For businesses, it's a great idea to use your business' logo here, so all of your photos are associated with your brand.
Previously on Instagram's web version, each profile page had a header comprised of a collage of its rotating photos. As of June 9, 2015, Instagram updated its profiles, feeds, and hashtag pages with a flat, minimal design.
Instagram also introduced the ability to upload portrait and landscape oriented photos and videos in August 2015. And, to ensure images look sharp across all devices with high-resolution displays, Instagram rolled out support for images at a higher resolution (up to a 1080-pixel width) in July of 2015.
Pro Tip: This is a great place to show your company culture, what happens "behind the scenes" of your business, the processes of creating your products, customers using your products, etc.
Tumblr
Tumblr is a blogging and social platform where users share thoughts, quotes, music, articles, GIFs, videos, images—basically anything. Images are (as usual) an important aspect of this social network, but there is more text-based content associated with Tumblr, as well.
Avatar (Profile Photo)
This photo will show up as a small box or square next to your posts in your followers' main feeds and is embedded with your username in posts that users come across while perusing Tumblr.
You can choose a theme for your Tumblr page, which allows for added customization (think of it as a website or blog page); however, many users will still be able to see a "profile" preview with an avatar and header photo of your choice (see the GIF below for an example of the profile preview).
With that in mind, it's important to remember that this header image will not show up on your Tumblr page unless you add it to your theme. Your avatar may also not be featured on your theme, but will show up as your Tumblr's favicon on browser tabs.
Pro Tip: Consider placing your business' logo directly on the photos you upload to increase brand visibility and recognition.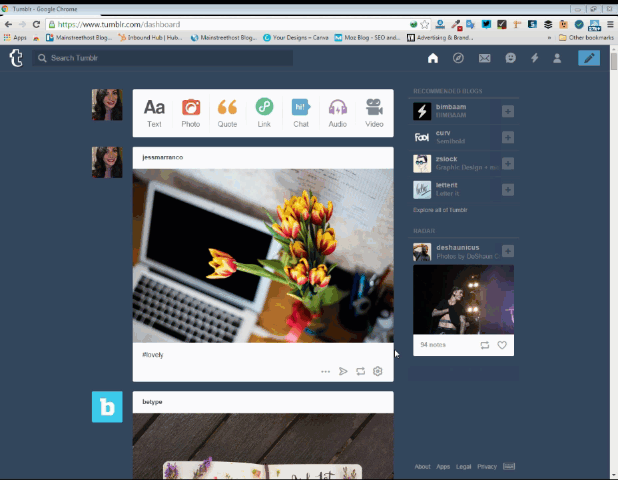 [contextly_auto_sidebar]
Infographic
Get all the proper image dimensions for these social networks in the infographic below, or view all the dimensions in our continuously updated Google Doc here. You can also click here to download the PDF version.
Resource Credits:
Editor's note: This resource was originally published in June of 2014, and has been updated repeatedly to provide you with the latest social media image dimensions—now for 2016. If you would like to see how much has changed since the last update, you can view the previous version here.
Get more content like this, plus the very BEST marketing education, totally free. Get our Definitive email newsletter.