Facebook best practices change about as often as Sean Combs/Puffy/Puff Daddy/P Diddy/Diddy/Diddy Dirty Money monikers, and keeping up on Facebook for business can be a significant time investment. Lots of newsletters, blog posts, and case studies to consume.
But now you can get the straight scoop on what's happening on Facebook for your business, and you don't even have to leave your office. Put on a little Beyonce in the background, grab some Cristal and join me at Facebook Success Summit (http://bit.ly/learnFacebook)
Produced by Social Media Examiner, this is the biggest and best Facebook education event ever. 19 Facebook pros (including yours truly) will help business owners and marketers improve in the wild and wooly world of Facebook. This Summit's focus is to empower you to implement successful Facebook marketing tactics, track and measure your Facebook ROI, and see how successful Facebook campaigns were executed.
Check out this line-up: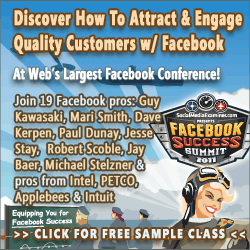 Guy Kawasaki (author, Enchantment), Mari Smith (co-author,Facebook Marketing), Dave Kerpen (author, Likeable Social Media), Paul Dunay (co-author, Facebook Marketing for Dummies), Jesse Stay (author, Facebook Application Development for Dummies), Robert Scoble (co-author, Naked Conversations), Michael Stelzner (founder, Social Media Examiner), and experts from Intuit, PETCO, Applebees and Intel.
Plus  Chris Treadaway (co-author,Facebook Marketing), Amy Porterfield (co-author, Facebook Marketing All-In-One for Dummies), and Andrea Vahl (co-author, Facebook Marketing All-In-One for Dummies).
I'm doing a session on the many ways Facebook and email marketing are similar, and how to tie the two together strategically and operationally in your organization. 
Who Should Attend?
Attendees at the previous Summit came from companies like General Mills, American Express, Intel, San Francisco Giants, Coca-Cola, Microsoft, Intuit, Harvard Business School, 3M, Kellogg, Staples, General Electric, MetLife, HP, Fox TV, LexisNexis, and the U.S. Army.
But you don't need to be a big business. All companies will benefit from Facebook Success Summit.
Massively Convenient for You
This is a 100% virtual event, so you can pick and choose what you want to attend. All sessions are also recorded, so you have up to ONE YEAR to watch the presentations at a time that's convenient to you(which is where the Cristal comes in)
Session start October 5, and the 19 presentations are spread over four weeks. But again, you can watch them down the road if you miss any.
Save 50% for a Limited Time
If you sign up soon, you'll save 50% on the registration fee, giving you a per-Webinar price of something like $16. Sixteen bucks for a Guy Kawasaki presentation? Umm, yeah! For Mari Smith? Definitely. Robert Scoble? Certainly. Heck, 16 bucks for a presentation from me is a pretty darn good deal. And this will sell out. The last Summit we did had nearly 3,000 sign ups, and 98% of attendees said they'd sign up again.
And if you sign up soon, I make a few dollars too. I appreciate your support. Tell your friends and colleagues about Facebook Success Summit and this URL: http://bit.ly/learnFacebook
If you're like me, sometimes you hate Facebook with the intensity of a burning sun. And then you start to love it again. I guarantee you'll take away several ideas and tips from this Summit that will help you and your company boost success on FB.
I'll see you there. If you have any questions about Facebook Success Summit 2011, shoot me an email or ask me on the new Facebook fan page for Convince & Convert (launching this week).
Also: As a way of saying "thanks" for signing up soon, there's a gift just for marketers called "Facebook News Feed Optimization: How to Dramatically Increase Your Visibility and Engagement" by Mari Smith (valued at $59) waiting for you. It's great content. Go get it here>