What if Twitter launched the most awesome analytics dashboard and no one really noticed?
Well, that's pretty much what happened over a month ago.
I've been waiting for the posts that detail how much you can get from the tool and the different types of analysis you can perform.
But… I'm tired of waiting. So here are some insights into Twitter's new analytics platform:
Twitter Analytics Dashboard
The dashboard provides a decent overview of activity over the last 28 days.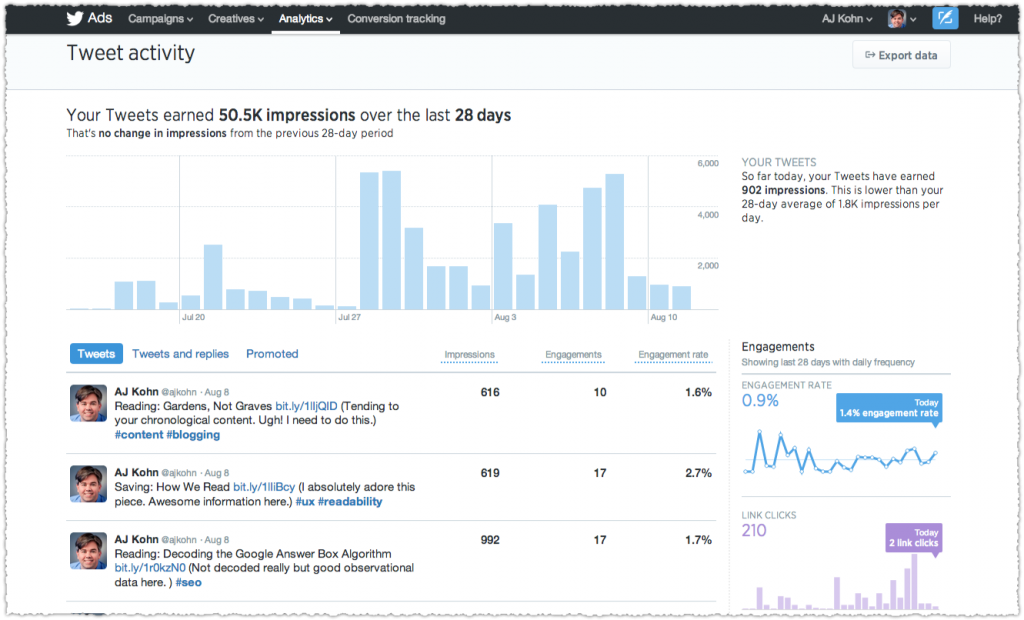 The major statistics it provides are Impressions, Engagements, and Engagement Rate for each tweet and the trend for those over time. That's not too shabby but lets poke at what lurks under Engagements.
Twitter Engagements
If you click on a specific Tweet, you get to see how people engaged with that Tweet: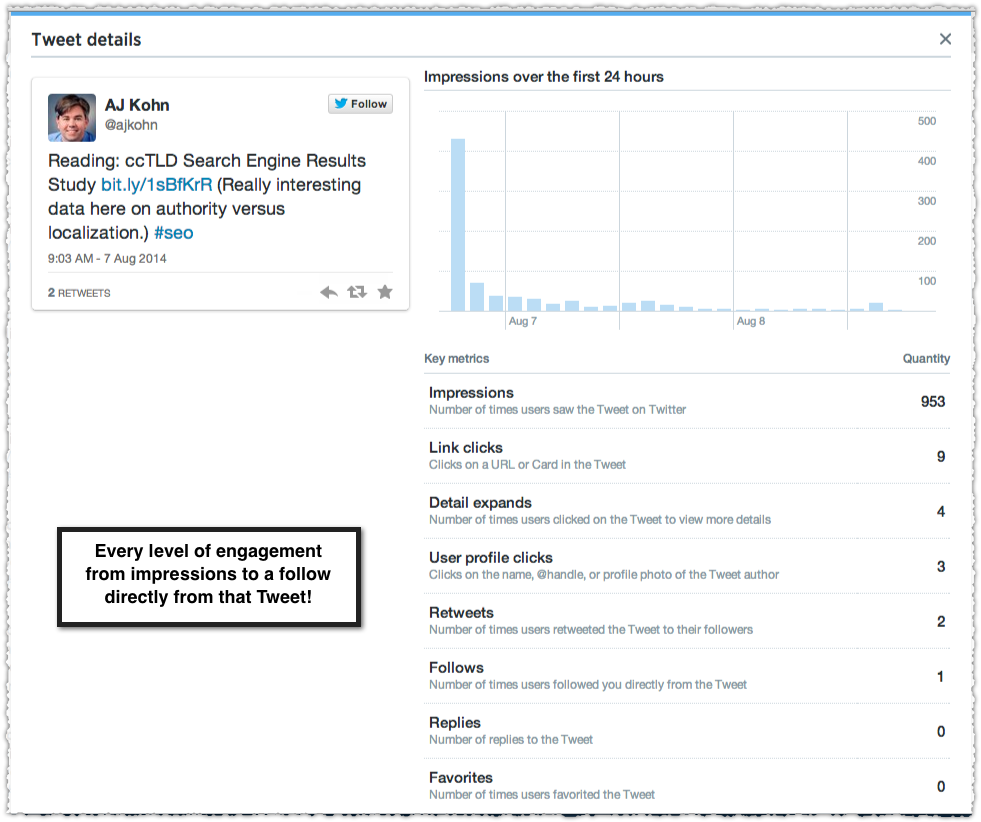 Now if you're not quietly swearing under your breath, at this point I don't know what's wrong with you. There's so much awesome information here. A sliding scale of engagement for you to pore over.
In particular, you can see which Tweets produced user profile clicks and actual follows. Not shown here but also tracked are the number of times the Tweet was shared via email. But wait, we haven't even gotten to the best part.
Export And Analyze

At the top right hand on the dashboard is an Export data button. This might as well be colored gold and in the shape of a treasure chest. Click and suddenly you have one of the richest sets of data you could wish for on your Tweets.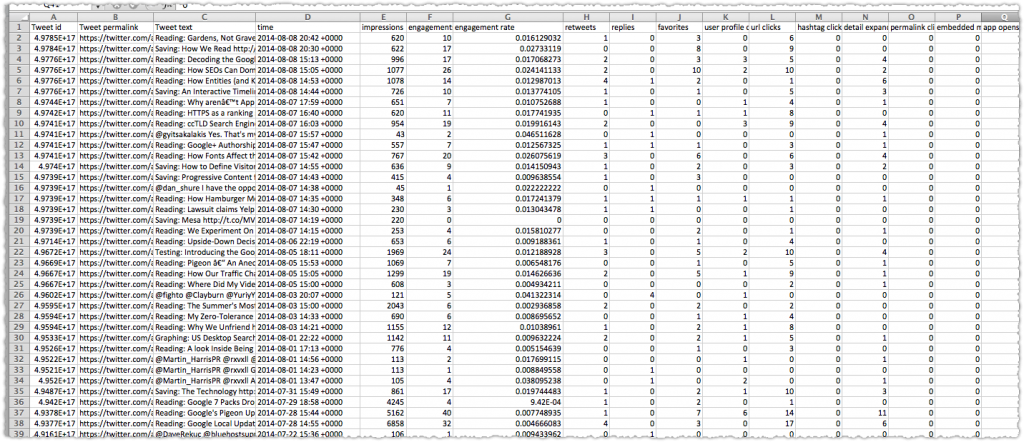 This eyesore of data is a goldmine. You get the actual text of each Tweet along with the timestamp coupled with all of the engagement metrics.
So, what can you learn from this data?
With a bit of data manipulation, I can find out which days I have the most engagement: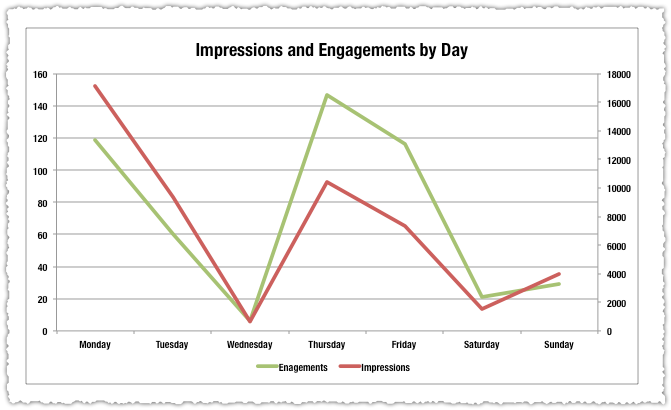 Monday and Thursday appear to be the best for the small amount of time I have data for. But maybe I just want to see the overall engagement rate by day.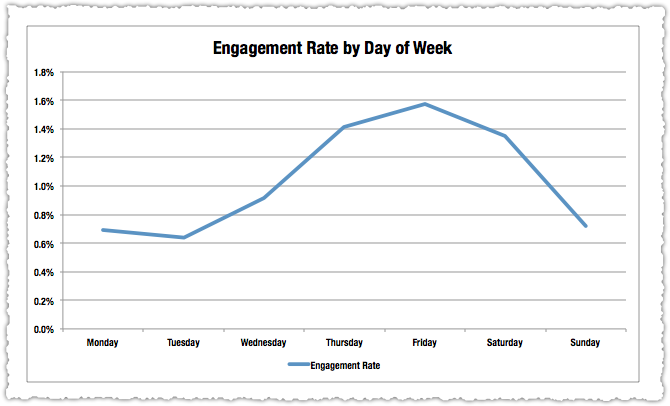 Friday and Saturday suddenly look pretty good from an engagement efficiency standpoint.
I could drill down here and get to the hour and come out with one of those popular "best time to Tweet" posts if I wanted. But I'll save that for another day.
Twitter Analysis Smorgasbord
Instead, I'll look for better insights. I happen to use hashtags as a way to classify my Tweets. Two of the more popular ones I use are #seo and #ux. Now, with a bit more data manipulation I can look at how these two different themes of Tweets perform:

I get a lot more impressions and engagements overall with the #seo hashtag but my engagement rate on #ux is twice as high. I could dig even deeper and do a pivot table to see what type of engagement I'm getting on each:

It's hard to see, I know, but here I can tell that I get more retweets per Tweet on #seo, but that many of the other metrics skew towards #ux in terms of engagement efficiency. This makes sense to me since I'm more of an authority in SEO than in UX. But it shows that with the right type of Tweets, I am moving the needle in the latter. 
(Engagement efficiency – that has a nice ring to it doesn't it?)
The analytic opportunities here are nearly endless – particularly if you've adhered to some sort of pattern in your Tweets (thank you latent OCD).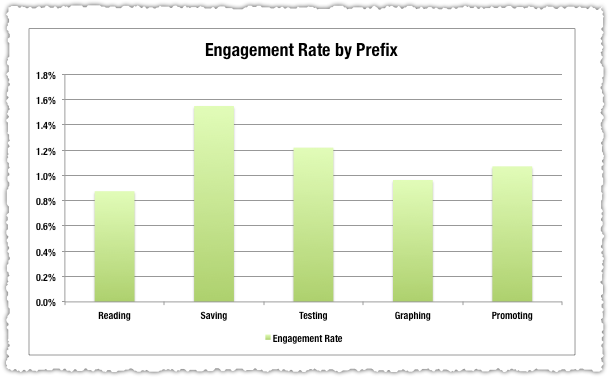 Here I can see that my particular Tweet pattern of using a prefix gives me some interesting results. Do people pay more attention and interact with my Tweets when I say I'm saving the piece of content I'm referencing? Maybe. But there's also a huge bias involved in the value of that content. Either way it's something I can track over time.
So, what are you waiting for?
How To Get Twitter Analytics
I think part of the problem is that the analytics feature is buried under the Ads interface. Maybe folks think you need to be running ads to get all of the organic Tweet data. That's not true. I haven't been running ads on my account. Never have. All I did was click the Get Started link and jump through a few hoops. Free!
If you're having trouble check out Dan Shure's post about how to set up Twitter Analytics on Evolving SEO. Dan also has some tips on using Favorited Rate to predict content success.
Hopefully you're ready to jump in with both feet and try this out. I'd really appreciate others providing some insight and potentially some macros to make the analysis even easier. Step to it, Excel gurus!
Editor's Note: A version of this article originally appeared on Blind Five Year Old.